You may, after you moved in, apply for a change of residence. Sign in to
unialltid
. After you log in, you will find "Room change" on the left side of your front page.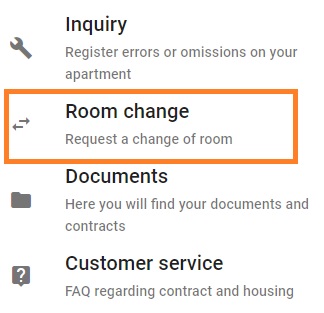 Deadline to apply for a change:
If you apply after the deadlines, it is possible that the property you wish already has been assigned to an another applicants.
1 November for a change that will take place at the new year
1st of April for change as of July
OBS! If there are other students who wants the same room as you, the one who registered his application first is assigned the room.
Frequently asked questions about room changes:
My current contract ends at the 30, and the new begins 1. What do I do? Answer: If your new room is ready before the 1st you will get access earlier and you can move over your things, so you can clear and clean your old room before the 1st.
I have learned that the person who currently lives in my new room don't plan to move out before 30/31, how can I move and wash my old flat? Answer: All rooms must be left and clean at 12o`clock last day of the contract. You must be present that day to be able to switch over after a clear signal from us. Recommend you to pack and wash the room as well as you can before moving, that way there will not be much to wash once you have moved your items.
I am not present when the old contract end and the new one begins, can I move when I return? Answer: No, if you leave during the changeover time, you have to pack your items and wash your old room before you leave. If you do not have a storeroom, you can get one and place your things there. Remember to contact us for a cleaning-check before you leave. See moving out
Is it possible to keep my old room one more day? Answer: If no one is moving into your old room on the 1st, then it is possible.
How do I access my new home? Answer: You use the same card or code as your current room, do not need to register your card again. If it is a physical key to your property, you must pick it up at our office or make an appointment as to where you can find it.
Do I have to pay the exchange fee of 500 NOK? Answer: Yes, the exchange fee must be paid.