My residence - Bjølstad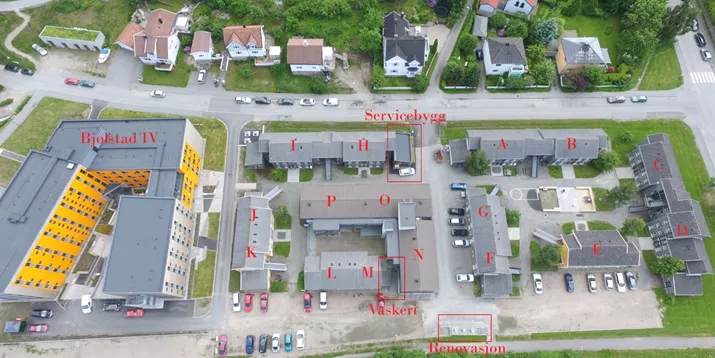 Overview Bjølstad student houses
Mail
All rooms have a personal electronic mailbox connected to them.
You'll find the mailboxes here: 
Bjølstad A - P : Mailroom next to servicebygget (connected to house H)
Bjølstad 4 : First floor by the main entrance
It's IMPORTANT that you add your room number to your adress, when you report relocation. The room number should also always be added to your orders. Also remember to change this on your profiles on ebay, nelly etc.
Your delivery address:
Bjølstadveien 4 or 8 A-P + H0xxx ( your room-number)
1671 Kråkerøy
To get access to your mailbox, you need to register your student card.
If you live in Bjølstad 8, and you have a physical key to your house, you still need to activate your student-card to access the mailroom and mailbox.
If you are expecting a package at the post office, this can be collected at:
Extra Glommen Brygge
Kråkerøyveien 2A
1671 Kråkerøy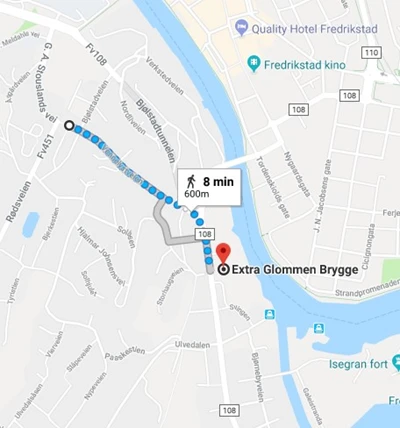 Change the battery on the door lock - Bjølstad 4

There are electronic locks on the doors, the battery will be empty at some point and must be replaced. This can be noted by the door not giving any kind of signals when you scan your card or pressing your code, the door lock seems "dead". You may also get three red or yellow flashes.

During the day you can contact the caretaker. In the evening / weekends and holidays you may call NOKAS: 915 78 268, they will assist you.

NOTE: If your door lock appears to work, (you get green lights) but you cannot unlock or re-open the door, try to give the door a proper push and try again. (wood is alive, and the door may have got a little jammed, a little push will help it to place again). With continuous experience of this, send an error message so that the caretaker can try to adjust the door.
Lost/Forgotten key or key card

At daytime, you may contact Tom at (+47) 950 64 311 og Dina at (+47) 958 55 541, or visit servicekontoret.
On evenings and weekends you can call Securitas on tel. (+47) 907 84 853.

Bjølstad 4: If you loose your card, you need to get a new one. You get one at the University. Remember to register the new card at our office.

Bjølstad 8: If you loose your key, you may borrow a spare-key for 14 days. If you still haven't found your key, there will be a fee of 500 NOK.
 
Parking on the premises
Bjølstad area is a controlled area and a parking permit is required. Parking permits are assigned by waiting lists.
Cars parked without a permit will be fined.
There are 54 parking spaces + 4 HC spaces on the premises.
If you have your own car and need a parking permit,
email
us with your full name and registration number on the car.
Move-in and move-out periods
In this period it will be possible to park here without a permit, but for a shorter period of the day
This applies in the periods:
June 15 - 30
August 1 - 15
WI-FI and the wired network
You receive a password and username to log on to the wireless network from Østfold University College, which is the supplier of our broadband network. All student residences also has wired network wall jack.
If you experience problems with your connection, please try the following before you contact us:
Check if your own computer works your room.
Check if your neighbors computer works at your neightbours room. 
Check if your own computer works at you neighbours room.
Check if your neighbors computer works in your room. 
If at least one computer working on each room, then there is no network problems and you must debug the computer.
WI-FI
: Contact 
it-vakt
 if the problem persists.
If the 
wired network
 does not respond, report errors at your page at unialltid. The caretaker will come check the outlet and if it receives signals.
IT operations have accepted temporary use of private wireless access points, under the condition that they are used on Channel 1.6 or 11 on the 2.4Ghz band (IEEE 802111g) or anywhere on the 5Ghz band.
Use of other channels will weaken the Eduroam wireless network.
What do you do if you experience bothersome noise from other residents?
Have in mind that you live with other students and therefore must accept noise to some extent. However - According to Norwegian law, your neighbour is not allowed to disturb the general peace and order, hence unnecessary noise.
The house rules reads:
Tenants should at all times respect other people's need for peace and quiet. After 23:00 on weekdays and 24:00 on days before Sundays/holidays it should be quiet in the flats and on the premises in general. Tenants are responsible for guests and should call for assistance if they are unable to control them. SiØ can require them to leave the premises.
This rule is not only SIØ's, but it is also legislated in the constitution § 3.
SECURITAS: TLF (+47) 907 84 853 
POLICE: 02800
Here is what you can do if you experience noise:
Talk to your neighbor and try to find a solution together. This will often be the best solution as it promotes a good environment for all parts.
Call Securitas Security: (+47) 907 84 853. (Remember to tell them that you're calling from Remmen)
Send a complaint to us at siost@hiof.no where you describe the incident and involved parties.
Laundry room
The laundry room is located on the ground floor between house C and D. Collect the laundry card at SIØs office. The laundry card comes with a pre-generated username and password.
There are 5 washing machines and 5 dryers in the laundry room. One washing machine and one dryer is of an extra large size to fit sleeping bags, duvets etc.  
Please read this before using the laundry room
Prices: 
| Laundry type | Price |
| --- | --- |
| Washing machine | Kr. 15,- |
| Dryer | Kr. 5,- |
| Washing machine XL | Kr. 20,- |
| Dryer XL | Kr 10,- |
Get a laundry card from our office
Log in and transfer money from your credit card
Use the laundry card to start the machine you reserved (reader is on the machines) 
When you've received the laundry chip
Follow this
link
 and enter the username and password (use the pre-generated username and password from the envelope)  
After logging in you'll see this page:

 You can change your username and password if you like. You'll be asked to log in again after you've changed the username and password.

Reservations
You can reserve machines between 07.00 and 22.00. PS. You can use the machines without reserving time, but only if the machine is done before the next reservation is set. Therefore, it's important that you log in and return the money from the laundry account. The washing machines is not available for booking between 22.00 and 07.00.  
If yo do not use the machines you've booked, and don't cancel the reservations, you'll be charged a fee of 25 NOK. You must cancel the reservation 1 hour before.
You can book two machines up to two weeks in advance.  
Account / Payment
In order to reserve time, you must have money in your "account". The money will not be transferred to the laundry card but will remain on your web account. If you lose the laundry card, you must log in to the laundry pages and select "Refund or Return Cash to Account". Your money will be returned to the account number you made your payment from.  

 
Lost card / Found card
If you lose your card, you must replace it and pay 100NOK. Found cards are delivered to SIØs office. If you lose your card, we recommend that you return the money you have left on the card to your own bank account.
Report inquiry
If you notice mistakes and defects in your room or collective while you live there, this must be reported to us in unialltid. The message will then go directly to the janitor who comes and looks at the case. This can be anything from light bulbs, heating cables, cranes and furnaces.
This is what you do:
Log in to your site https://siost.unialltid.no
On the front side, on the left, you get this and you choose "Inquiry"
NOTE, if you want the caretaker to look at the case even if you are not home, it is important that you remember to accept "godtar innlåsning". If you do not accept this, we will not go into your room if you are not home. You may therefore experience that it takes a long time before your problem getting fixed because you have to be home at the time the caretaker comes to look at the matter.
In the case of a thing that is in the common area of the collective, locking is not important, it is only if there is a matter in your private room.
Do you have other questions that do not concern physical things in your home, but if you have a contract, student card, codes and other general questions, please send it to 
siost@hiof.no
.
Cleaning
Waste
Storage of garbage in the corridors shall not occur at all. If you plan to take the trash out when you leave, leave it in your room until you leave.
We have sorting for general waste and paper. This must be disposed of in the correct containers.
Glass, metal and other waste must be thrown at recycling stations.
There are two waste stations at Bjølstad. One at the parking area outside house N and F, and one between house I and Bjølstad 4.
Weekly cleaning control
We have weekly cleaning control in collectives. We recommend that you and your room-mates come to an agreement about cleaning routines. This contributes to a clean and comfortable living environment.
We do not check studio apartments or couples apartments. 
The weekly cleaning shall consist:Empty garbage (must of course be done continuously)
Floor
Kitchen benches and cabinets
Stoves and plate tops
Kitchen sinks and faucets
Bathroom (not in your private rooms, only the ones you share)
Semester cleaning
The semester cleaning is done twice a year, in November and in April/May. You will get a cleaning list from us.
You will be charged 500NOK, if your cleaning task is not approved.
If you are in practice or are not in the resident while semester cleaning is checked, you can send us an 
email
 to book an appointment for another day.  
Please note: There are only in the common areas in collectives the semester cleaning will be checked. If you live in a couples-apartment or in a studio apartment, there is no semester cleaning.  
Cleaning Equipment
SiØ puts out starter packages in collectives every summer.
This includes
Mop rack
Buckets
Rags
Some soap
Soap and cloths are not replenished, this is the responsibility of the resident to acquire. The starter packages is available from August 1st and are intended as a start-up assistance when moving in.
If there is no vacuum cleaner where you live and want vacuum cleaner, you must buy this yourself. (Central vacuum cleaner is to be found on Nye Remmen and Bjølstad 4)
Cleaning check in connection with changing room/moving
When moving out, the entire room, including your cabins and the fridge in the common area must be washed. A cleaning-check time must always be reported to us. You can report this to
siost@hiof.no
See "
move out
" for more information and checklists.
Smoking

All our homes are non-smoking. Smoking is not permitted.
Smoking must be done in designated places. Smoking right outside the entrances is prohibited.

Attention, smoke smell can be very difficult and expensive to get off. If you've smoked inside and it smells when you move out, there will be a cleaning fee. This can cost you between 5000 - 12000 NOK
Fire instructions
The fire alarm at Bjølstad is directly linked to the fire service. You should save this number on your phone: 60201700 in case of unwanted alarm.
All unwanted alarms leading to full emergency response will incur a fee of 5000 NOK. This will be charged to the room where the fire alarm is triggered.Do not leave the room when you have lit candle lights.
Avoid frying pizza when you should be asleep
Be present while cooking food. Avoid dry cooking
Avoid using chargers at night
DO NOT smoke inside
Do not leave electrical heaters and other electrical appliances while they are on.
It`s strictly forbidden to disconnect fire alarms from the ceiling. All alerts are connected, if you take one down and security will be broken and the alarm goes off.
Smoking inside is not allowed inside under any circumstances. Do not cover the fire-detector.
How to use the fire panel