My residence - Remmen

Here you will find information about: 
Mail
Your address: 
BRA veien 6A, 6B, 6C
or
6D
your room number (see door)
1783 Halden
You will receive an sms from us if you have gotten mail.
Mail must be collected from the administration between 08.00 and 15.00 week days
If you are expecting a package at the post office, this can be collected at:
Coop Prix
Braveien 55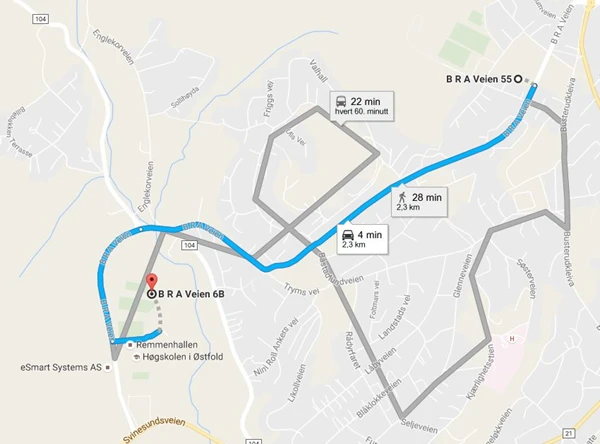 Operating the blinds
When pressing button 1 and 3 the blinds will change angle.
A long press (5 seconds) on button 1 and 3 will make the blinds go up or down in the direction you press. This can be stopped by pressing button 2.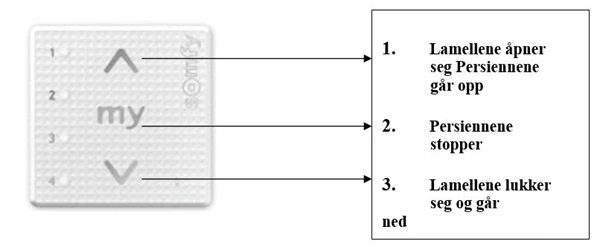 The blinds are programmed as follows:
After 2 min of sun, the blinds will go down.
After 30 minutes without sun, the blinds will go up again  
The blinds will go up automatically when gusty as this can damage the blinds.
Fire Alarm

Fire alarm reset panel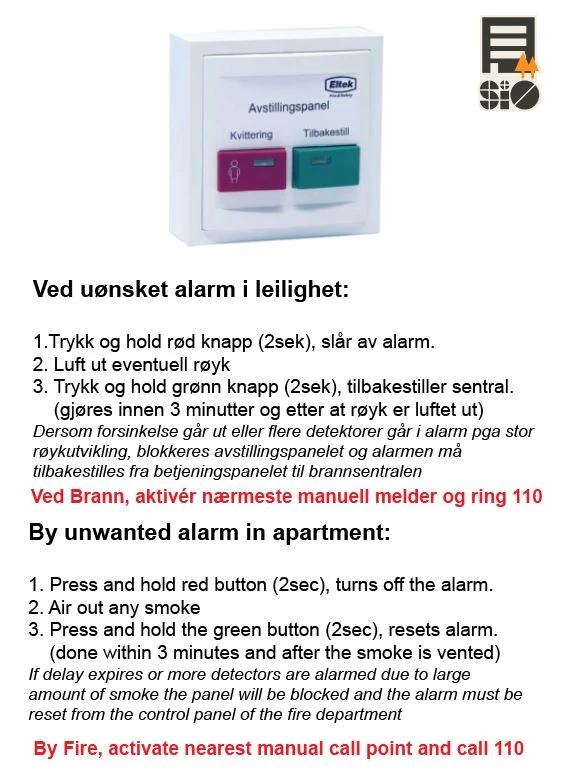 Internet

You receive a password and username to log on to the wireless network from Østfold University College, which is the supplier of our broadband network. All student residences also has wired network wall jack.

If you experience problems with your connection, please try the following before you contact us:

1. Check if your own computer works your room.
2. Check if your neighbors computer works at your neightbours room. 
3. Check if your own computer works at you neighbours room.
4. Check if your neighbors computer works in your room. 

If at least one computer working on each room, then there is no network problems and you must debug the computer.
What do you do if you experience bothersome noise from other people you live with?
Remember that you live with others and must accept the noise to some extent. However - According to Norwegian law, your neighbour is not allowed to disturb the general peace and order hence unnecessary noise.
The house rules reads:
Tenants should at all times respect other people's need for peace and quiet. After 23:00 on weekdays and 24:00 on days before Sundays/holidays it should be quiet in the flats and on the premises in general. Tenants are responsible for guests and should call for assistance if they are unable to control them. SiØ can require them to leave the premises.
Here is what you can do if you experience noise:
Talk to your neighbor and try to find a solution together. This will often be the best solution as it promotes a good living environment for all parts.
Send a complaint to us at siost@hiof.no where you describe the incident and involved parties.