My residence - Stadion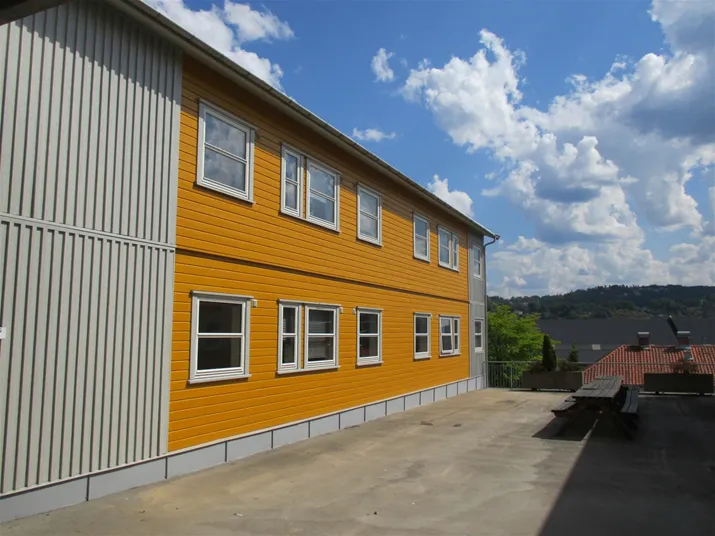 Laundry room

You'll find the laundry room in house 15. You don't need a card or to book a time to clean your clothes.

Do not start a washing machine after 22 pm, the walls are thin.

We have three smaller laundry machines, two bigger ones and two dryers.
You must bring your own detergent.

Time your laundry so you can go get it as soon as it's finished. Don't occupie the machines for others.
Mail
The mailboxes is placed under the stand on house 15. There's one mailbox for each collective.
Your delivery address:
Peder Ankers Gate (13, 15, 17) (A - D)
1771 Halden
It's important that you add your room number to your address, when you report relocation. Your room number must always be added to your orders. Also remember to change this on your profiles on ebay, nelly etc.
If you're expecting a package at the post office, this can be collected at:
Coop Extra Halden
Grønland 6
1767 Halden

WI-FI and the wired network
WI-FI: EDUROAM
If you experience problems with your connection, please try the following before you contact us:
Check if your own computer works in your room.
Check if your neighbors computer works in your neighbours room. 
Check if your own computer works in you neighbours room.
Check if your neighbors computer works in your room. 
If at least one computer works in one of the rooms, then there's no network problems and you must debug your computer.
WI-FI:
Contact 
it-vakt
 if the problem persists.
If the 
wired network
 does not respond, report errors in unialltid. The caretaker will come and check  if the outlet receives signals.
IT operations have accepted temporary use of private wireless access points, under the condition that they are used on Channel 1.6 or 11 on the 2.4Ghz band (IEEE 802111g) or anywhere on the 5Ghz band.
Use of other channels will weaken the Eduroam wireless network.
What do you do if you experience bothersome noise from other residents?
Have in mind that you live with other students and therefore must accept noise to some extent. However - according to Norwegian law, your neighbour is not allowed to disturb the general peace and order, hence unnecessary noise.
The house rules reads:
Tenants should at all times respect other people's need for peace and quiet. After 23:00 on weekdays and 24:00 on days before Sundays/holidays it should be quiet in the flats and on the premises in general. Tenants are responsible for guests and should call for assistance if they are unable to control them. SiØ can require them to leave the premises.
This rule is not only SIØ's, but it is also legislated in the constitution § 3.
SECURITAS: TLF (+47) 907 84 853 
POLICE: 02800
Here is what you can do if you experience noise:
Talk to your neighbor and try to find a solution together. This will often be the best solution as it promotes a good environment for all parts.
Call Securitas Security: (+47) 907 84 853. (Remember to tell them that you're calling from Remmen)
Send a complaint to siost@hiof.no where you describe the incident and involved parties.
Report inquiry
If you notice mistakes and defects in your room or collective while you live there, this must be reported to us in unialltid. The message will then go directly to the janitor who comes and looks at the case. This can be anything from light bulbs, heating cables, cranes and furnaces.
This is what you do:
Log in to unialltid
On the first page, choose "Inquiry"
Describe the problem
NOTE: If you allow the caretaker to fix the problem without you being present, check the "godtar innlåsing" box. If this is not OK, call Magne (+47 90671411) to arrange a time that works for both.
This only applies to inquiries in your own private room.
Do you have other questions that doesn't concern physical things in your home, but contract, student card, codes and other general questions, please send it to siost@hiof.no.
Cleaning
Waste
Storage of garbage in the corridors shall not occur at all. If you plan to take the trash out when you leave, leave it in your room until you leave.
We have sorting for general waste and paper. The waste bins is placed underneath the stand bertween house 13 and 15. You can place paper and plastic in the room 
Glass, metal and other waste must be thrown at recycling stations.
Weekly cleaning control
We have weekly cleaning control in collectives. We recommend that you and your room-mates come to an agreement about cleaning routines. This contributes to a clean and comfortable living environment.
We do not check studio apartments or couples apartments. 
The weekly cleaning consists of:
Empty garbage (must of course be done continuously)
Floor
Kitchen benches and cabinets
Stoves and plate tops
Kitchen sinks and faucets
Bathroom (not in your private rooms, only the ones you share)
Semester cleaning
The semester cleaning is done twice a year, in November and in April/May. You will get a cleaning list from us.
You will be charged 500NOK, if your cleaning task is not approved.
If you are in practice or are not in the resident while semester cleaning is checked, you can send us an email to book an appointment for another day.  
Please note: There are only in the common areas in collectives the semester cleaning will be checked. If you live in a couples-apartment or in a studio apartment, there is no semester cleaning.  
Cleaning Equipment
SiØ puts out starter packages in collectives every summer.
This includes
Mop rack
Buckets
Rags
Some soap
Soap and cloths are not replenished, this is the responsibility of the resident to acquire. The starter packages is available from August 1st and are intended as a start-up assistance when moving in.
If there is no vacuum cleaner where you live and want vacuum cleaner, you must buy this yourself. (Central vacuum cleaner is to be found on Nye Remmen and Bjølstad 4)  
Cleaning check in connection with changing room/moving
When moving out, the entire room, including your cabins and the fridge in the common area must be washed. A cleaning-check time must always be reported to us. You can report this to siost@hiof.no
See "
move out
" for more information and checklists.
Smoking

All our homes are non-smoking. Smoking inside is not allowed.
Smoking must be done in designated places. Smoking right outside the entrances is prohibited.

Attention, smoke can be very difficult and expensive to remove. If you've smoked inside and it smells when you move out, you'll be a charged with a cleaning fee. This can cost between 5000 - 12000 NOK
Fire instructions
The fire alarm is not directly connected to the fire department. If the alarm sounds, find out why. If there's an actual fire then you must call 110 to alert the fire department.
If the alarm is unwanted, go to the laundry room to silence the clocks. You'll find instructions by the fire panel. When the clocks is silenced, call Mange, (+47) 90671411, and he'll come and reset the fire panel.