Foundation for student life in Østfold has many student residences in Fredrikstad and Halden. All are within walking and cycling distance of the college premises. Select your place of residence based on city or study.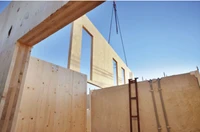 You deserve something new. Now you have the opportunity to move into a solid wood housing.
In both Halden and Fredrikstad, we are proud to present brand new housing options. There are two new high-rise buildings made ​​in solid wood. Wood is nature's building material and it has very good properties in terms of climate and indoor environment. Solid wood saves CO2 instead of releasing it. Wood is a hygroscopic material, this means that the wood will always try to adapt to the surroundings around the wood. The result is a climate that no thermostat in the world can match. In addition, solid wood is a renewable resource with excellent fire resistance.